Ahmad Angawi: Jeddah's Hidden Designer Gem
Ahmad Angawi is a hidden Middle Eastern designer gem, his work a refreshing inspiration. From his Jeddah-based studio, he implements a truly complete design process: from observation to analysis to execution. Having studied industrial design at Pratt Institute in New York, Ahmad takes the thinking and merges that with his Hijazi heritage to produce some new exciting designs with their own connection to nature and his surrounding. This line of thinking comes from his father, Dr. Sami Angawi, who is one of the leading Hijazi thinkers and architects in the Mecca region. Ahmad continues this stream through product innovation and opening up design discourse through objects. Things like connection to nature and exploring eco-sustainable design approaches whether to give an object a reusable second life or to help reduce waste, are at the core of Ahmad's design attitude. He applies true Islamic Hejazi influence in design process versus pure aesthetic influence. That is what makes his work stand out as seen below: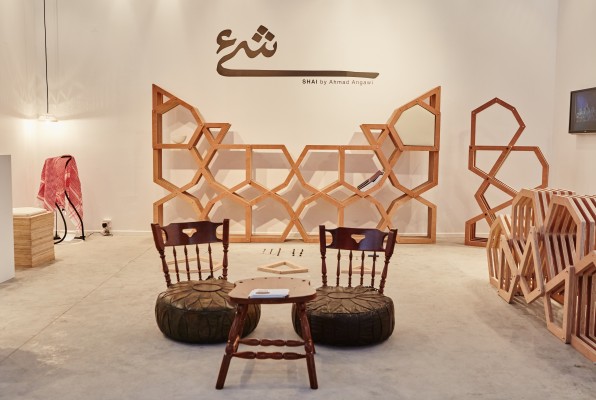 Sijada
Basing this simple solution on his need to pray when he was in New York, Ahmad went back to basics. His prayer rug won an honorable mention in I.D. magazine because it answered a straightforward problem in an uncomplicated way. He integrated the spiritual aspect in his design in a very discreet manner. This bag had a prayer rug integrated within it so that anyone could remove it when they needed to pray and then fold it back and pack it back.
Problem: No prayer rug available in daily routine of a Muslim especially in the Western World
Solution: Creating a portable bag from honest material with a rug integrated discreetly on one side, result is prayer rug integrated in a cool bag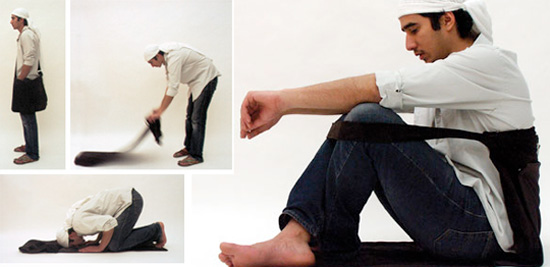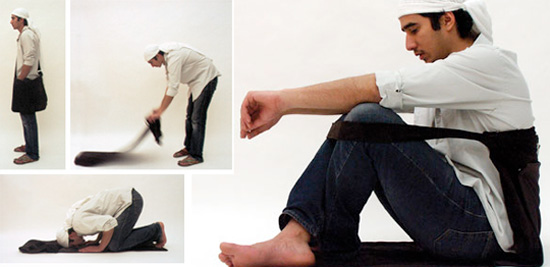 Coffee or Tea
Starting from the idea to help preserve local Arab craftsmen, Ahmad developed the Coffee or Tea glass. Damascus used to be a hub for its glass industry, filled with variousglassblowing shops. Today, these specialized glass craftsmen have become almost extinct with no continuation or reservation for the future. Abu Ahmad's glass blowing shop is one of the few places left. This product was developed with his glassblowing craft with a design process to create a bigger demand and eventual continuity.
Problem: Extinction of specific glassblowing craftsmen and technique
Solution: Creating a new market by contemporary glass product. People drink coffee and tea in the region and so Ahmad came up with a glass product that can be adapted to both kinds of drink using old craftsmen technique. The product is original, contemporary and universal.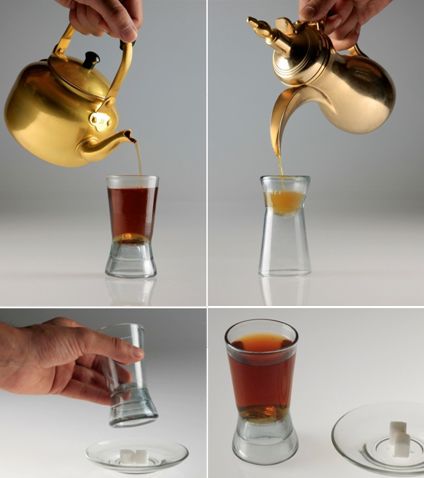 Middle-Western chair
Ahmad sometimes experiments with some conceptual pieces like this chair. He developed a hybrid of two chairs – each is a typical traditional craft piece from two different cultures: Western Captain Wooden Chair and the Middle Eastern Ottoman. He wanted to explore and celebrate the diversity of the two cultures through the way they sit and offer a new unity to bridge the cultural gap. Another concept tackled with this project is stressing on the importance of taking time to sit and listen in order to have a healthy interchange.
Problem: West and Arab diversity in culture.
Solution: Bridging the gap by offering a fusion of both cultures in a context where one can sit, listen, exchange and really get to know one another.


Mangor
This piece re-used steel waste die-cut material that was thrown away by factories. Ahmad's inspiration came from two Hijazi architectural elements, Roshan and Mangor that serve two purposes: to allow natural light in the building and simultaneously maintain one's privacy at home.
Problem: A lot of waste
Solution: Recreating iconic pieces with a variety of re-used material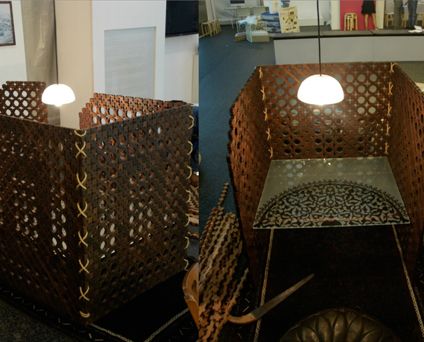 Designing with Bees
The Mangor piece became a great platform for another experimental project. Ahmad observed a colony of bees until they built their beehive. The whole process was documented on a day-to-day level in order to observe natural design at work. The learning process from nature is a pure one and fundamental to all designers. Nature does things in a balanced and non-wasteful way. Ahmad then dissected and analyzed the process to learn about structural elements involved.
Problem: Man-made things don't always last and are usually destructive
Solution: Understanding nature's harmony to learn from it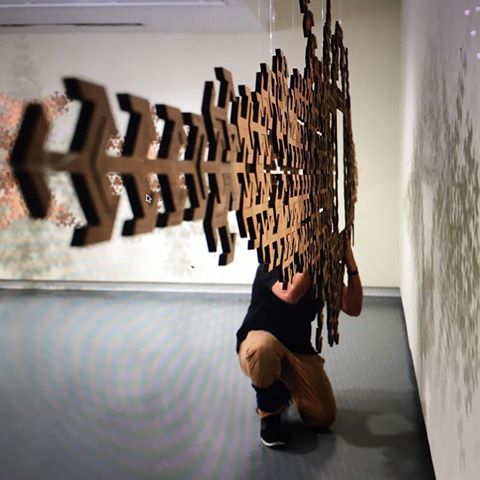 Modular Furniture
This is another great example of the intersection of the West and the Middle East. Using modular furniture thoughts and techniques, Ahmad reworked the idea with Arabesque shapes and patterns. All the pieces can be constructed and deconstructed according to need.
Problem: Smaller spaces in our modern lifestyle with mostly Western furniture as a given
Solution: Modular elements with an Islamic style for smaller homes/offices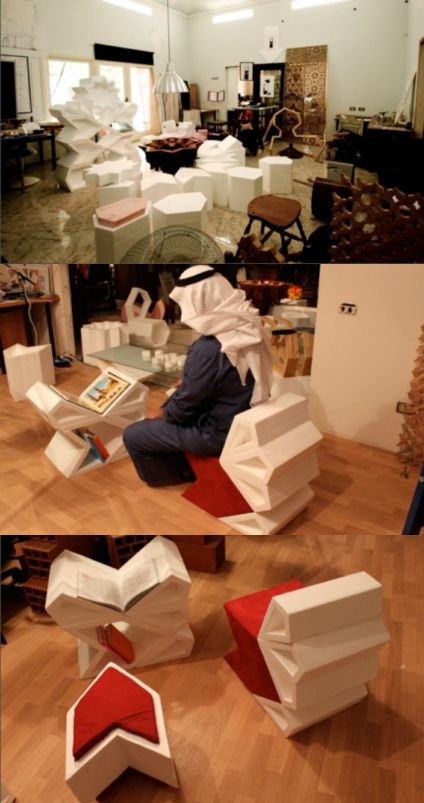 This article originally appeared on Arabictypography.com